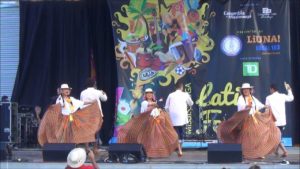 Mississagua se alista para vivir el LATIN FESTIVAL. Este espectacular evento se llevará a cabo en el Celebration Square y será una un desfile de ritmos y colores que está previsto para el sábado 29 a las 5:00 pm, con participación de personalidades de la ciudad de Mississauga y representantes de la comunidad.
La comunidad latina expresará su agradecimiento a Canadá, en ocasión de la conmemoración de su 150 aniversario como nación, en el Mississauga Latin Festival 2017, previsto para los días 29 y 30 de julio en la plaza de Mississauga Celebration Square, ubicada en el 300 City Centre Drive.
Para este año, Canadian Latin Heritage Association ha preparado una variada muestra de expresión cultural que revela el profundo y sincero sentimiento de gratitud de la comunidad latina a Canadá y a su gente. Este homenaje incluye pinturas, poesías, escrituras e ilustraciones.
Los dos días del Mississauga Latin Festival prometen un espectáculo para todas las edades, ventas de comida, puestos de productos y servicios, así como la presentación especial de Pastor López, para el sábado 29 de julio, cuando el cantautor latinoamericano de la cumbia y otros géneros musicales ofrecerá su repertorio.
Canadian Latin Heritage Association es una organización sin fines de lucro, con sede en Mississauga, dedicada a difundir la tradición y el folklore de los países de América Latina en Canadá a través del arte, la música y la gastronomía. Entre sus logros se encuentran la producción anual del Pabellón Latinoamericano en el Festival de Carassauga y el Mississauga Latin Festival. Ambos eventos reúnen a una audiencia de más de 25.000 personas.
MISSISSAUGA LATIN FESTIVAL
Mississauga Celebration Square
Saturday July 29th, 2017
5:00 pm – 6:00 pm
PARADE PROGRAM
4:30 pm Arrival and registration of participants
5:00 pm Parade Start (Politicians, personalities and sponsors of the event lead the parade)
5:20 pm Arrival to Celebration Square Stage
5:25 pm Canada Anthem by Nathalie Villamarin
5:30 pm Dance of Latin American Flags in honor of Canada 150
5:40 pm Welcome by:
Mrs. Isabel Cuellar, Director, Canadian Latin Heritage Association
Mr. Jaime Cortez, Board of Director, LIUNA LOCAL 183, Presenter Sponsor
5:45 pm Greeting & Ribbon cut by:
Mrs. Bonnie Crombie, Mayor of Mississauga (Pending to confirm)
Mrs. Hazel McCallion , Former Mayor of Mississauga (Pending to confirm)
Mr. Peter Fonseca, Member of Parliament (Pending to confirm)
Deputy Chief Regional Peel Police (Pending to confirm)
Mr. Jaime Gonzalez, TD Bank Canada Trust, Gold Sponsor
Mr. Francisco Garzon, Platinum Sponsor
6:00 pm Pictures and Latin Tropical Refreshments (Pina Colada)
MISSISSAUGA LATIN FESTIVAL
PROGRAM 2017
Saturday, July 29th
2:00 pm Welcome with "Zumba Fitnes Canada"
2:15 pm FOLKLORE EXHIBITION: Asi es mi Tierra Peru (PERU); Huairapungo (ECUADOR);
Afochile (CHILE); El Sombrero Azul (EL SALVADOR)
3:15 pm Singer "Joel Zambrano"
3:30 pm DJ Albert Moreno
4:00 pm Band "ANDY & LOS LATINOS"
5:00 pm Special Opening Ceremony with LATIN AMERICA PARADE!
6:00 pm Group "Tuna Lazos de Amistad"
6:30 pm FOLKLORE EXHIBITION: Llasas de Bolivia (BOLIVIA); SINGER: Rosario Arce; Ballet Puro
Mexico (MEXICO); Sentir Venezuela (VENEZUELA)
7:30 pm DJ Albert Moreno
8:00 pm Orchestra "PASTOR LOPEZ"- International Singer
9:30 pm DJ Albert Moreno
10:00 pm Band "RISE & MANGO"
11:00 pm END
Sunday, July 30th
2:00 pm Welcome with "Dancing in the Rain"
2:15 pm FOLKLORE EXHIBITION: Ritmo & Cafe (COLOMBIA); Tonatiuh (MEXICO); Melodia de
Bolivia (BOLIVIA)
3:15 pm Singer "NATALIE CASTRO"
3:30 pm DJ Albert Moreno
4:00 pm Band "EL PARRANDON"
5:00 pm DJ Albert Moreno
5:30 pm Orchestra "CARLOS CRUZ"
6:30 pm Dancing Group: "LATIN ENERGY" – Salsa, Tango & Bachata Show
7:00 pm END