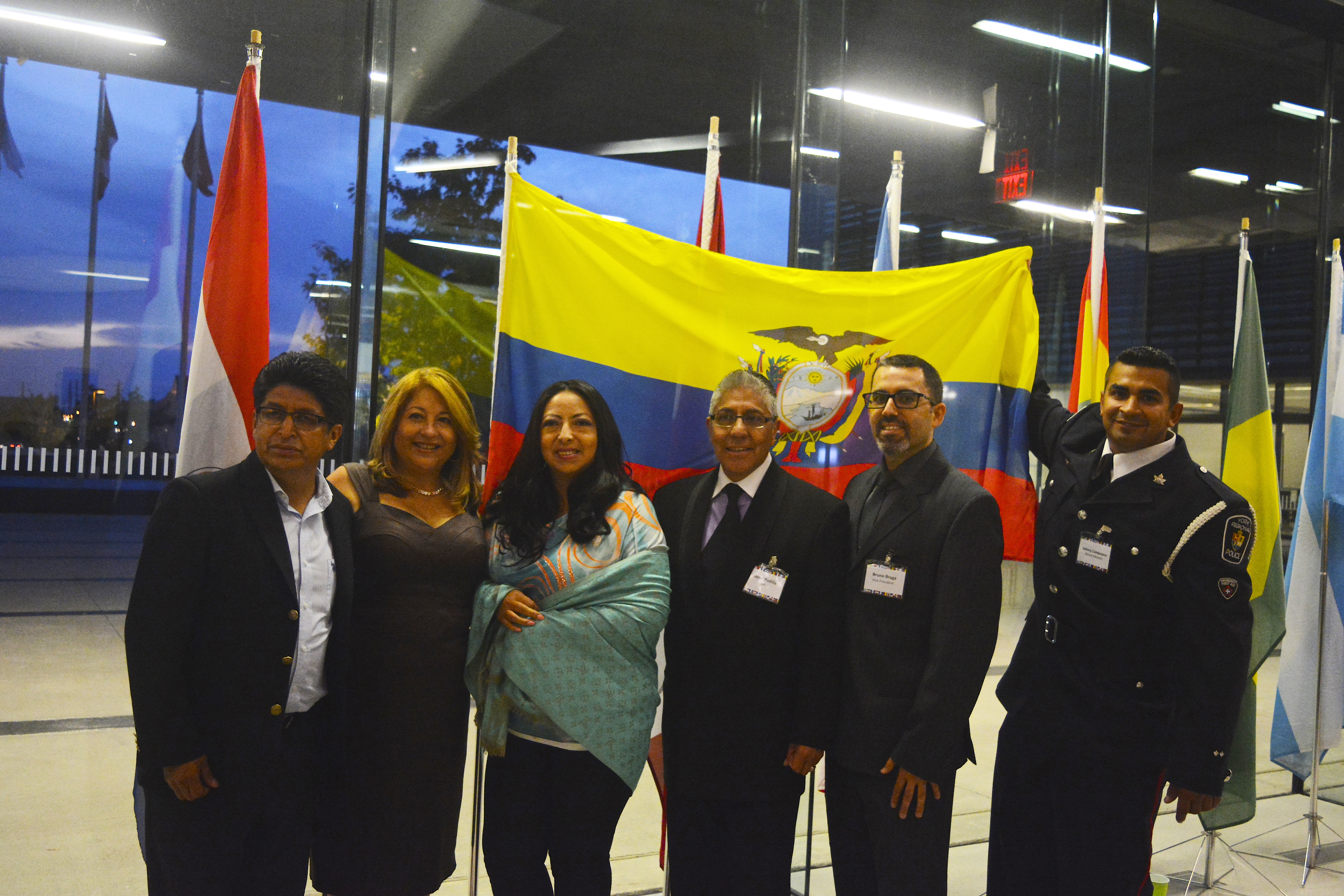 En el mes de la Herencia Hispana, Ontario reconoce las contribuciones de los Hispano-Canadienses a nuestro aporte social, económico, político y multicultural.
Este año 2016, Fuerza Latina Community Services organizó en el Vaughan City Hall el "Hispanic Heritage Celebration", donde se elevo la bandera de unidad Latina junto a un desfile de jóvenes que elevaron orgullosament 20 banderas Latinas, y que en el cual asistieron las máximas autoridades y representantes de los países Latinos.
Adjunto las fotos de este prestigioso evento.
Destacando la presencia del Hon. Alcalde de Vaughan, Maurizio Bevilacqua, Concejales, Miembros del Parlamento Provincial y Federal, MPP Steven Del Duca, MPP Lorne Coe, MP Deb Schulte, MP Francesco Sorbara, York Regional Police Deputy Chief Tom Carrique, Hon. Consul General del Ecuador, Rolando Vera, Hon. Consul de Paraguay, Mario Masayuki Toyotoshi, Hon. Viceconsul del Peru Sandra Morán, Director Tourism Dominican Republic, Abdalah Castillo, Brazil-Canada Chamber of Commerce Director, Paola Saad, Presidenta del Congreso Hispano Canadianse Eldy Ampuero, Silver & Bronze World Cup Medalist, two National Championship titles, fourth place at the 2008 Olympic Games Sarah Chaudhery, quienes  conjuntamente con  los Directivos de las importantes instituciones que representaron a sus países Latinoamericanos, procedieron a izar la bandera de la unidad Latina.
La apertura del programa dio inicio con el Himno Nacional de Canadá y el homenaje a la hispanidad con el tema musical El Cóndor Pasa, interpretados magistralmente por Jennie Dapello.
Como Mc y Animador  contamos con la presencia del destacado Artista Ecuatoriano Javier Padilla, quien vino  de forma exclusiva desde el Ecuador, para este evento. La celebracion estuvo  amenizada con la participación de destacados artistas de la comunidad Hispana como: el  Grupo Folklorico Tinkusay, Many Cardenas, Valery Villamarin,  Dancing in the Rain, entre otras figuras.
Fuerza Latina agradece a los Title Sponsors; Ivan Arturo, Sun Life Financial, Teresa Campo, Royal LePage, Carlos Ortiz, Devry Smith Frank LLP, GUIA Hispana, Miami Beach Grill, Ay Caramba, Magic Vision Photography y a todos los medios de comunicación.
Ver galeria de fotos